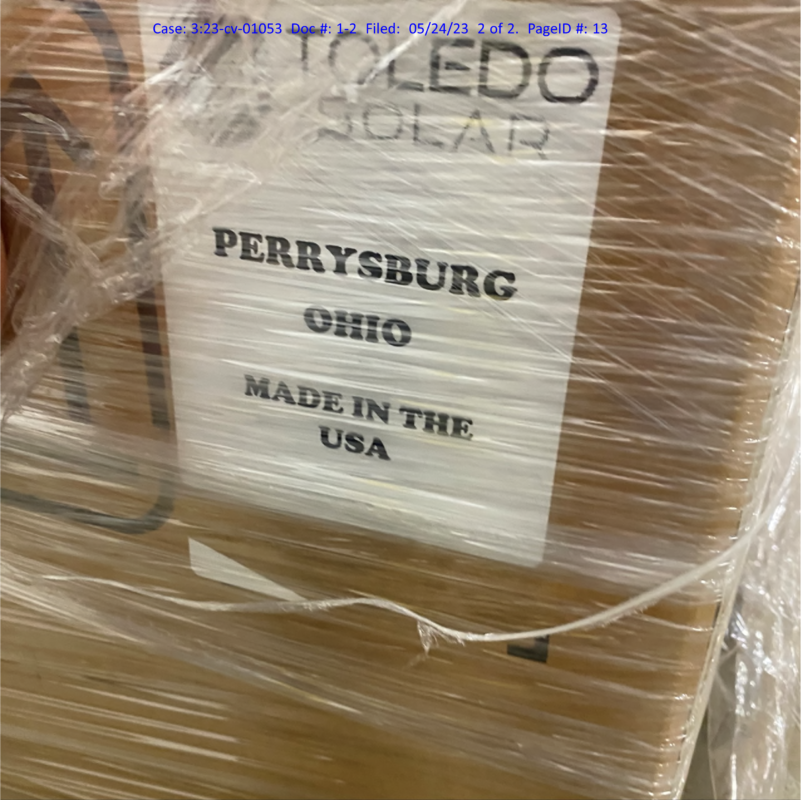 First Solar has filed a legal complaint against fellow US PV manufacturer Toledo Solar for modifying, marketing and reselling old First Solar panels as its own product, claiming to be made in the US. The modules in question were manufactured in First Solar's Malaysia facility in 2018 and sold in July 2019 to a solar developer in Ohio.
In a statement, a First Solar spokesperson said: "We were disappointed to learn that Toledo Solar has modified, marketed, and sold First Solar's CadTel solar panels as its own, and have filed a complaint against the company for deceptive trade practices. Given our role as a solar industry leader with a track record in championing domestic solar manufacturing, we have taken this action after careful consideration of the seriousness of the matter.
"(We intend) to address and ultimately resolve the issue by having Toledo Solar notify all purchasers of any First Solar panels that it has sold as its own, and to prevent it from making further false claims and selling any additional First Solar panels it may have in stock."
The original panels in question were discovered at the mansion of the governor of Ohio in 2022, when First Solar was removing some of its panels that had been installed at the property since 2004. Replacement panels, provided by Toledo Solar, were found to be branded with First Solar serial numbers with the junction boxes removed and altered in a way that was unsafe. Interfering with the integrity of a module can compromise its performance and warranty.
Allegedly, the serial numbers identified the panels as First Solar series 4 CadTel modules produced at its Malaysia facility in 2018 and shipped as part of a large order to a developer in Ohio in July 2019. Toledo Solar's branding claimed that the panels were made in the US, and Ohio-based media at the time ran stories of 'Ohio-made' panels being installed at the governor's residence.
First Solar then ordered a shipment of 200 Toledo Solar modules in January 2023. Upon delivery in February, it found that these too were in fact Malaysia-made First Solar modules.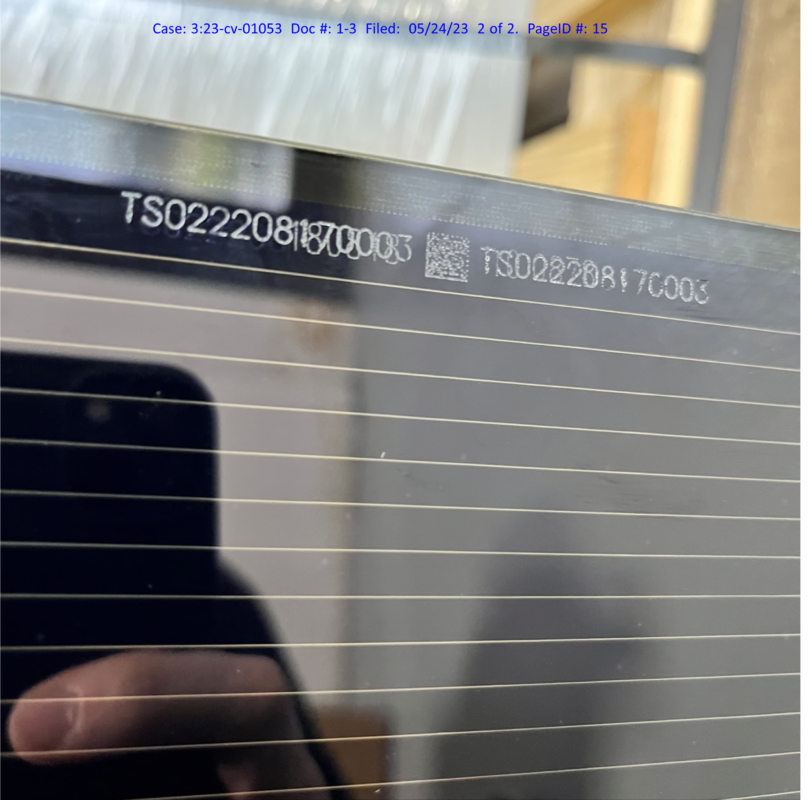 The legal complaint also accuses Toledo Solar of advertising on social media that certain of its PV modules were fabricated in Ohio, when in fact they were Malaysia-made First Solar products. How Toledo procured the modules is yet to be clarified.
First Solar said that the 'deceptive' practice exposes it to both liability and reputational risk, and exposes the wider US PV industry to the same.
This is of particular concern given the current climate in the US regarding module imports and domestic manufacturing. The Inflation Reduction Act (IRA) includes significant incentives for both manufacturing and deploying US-made modules, and consumers falsely believing they are deploying US-made modules may not qualify for the full investment tax credit (ITC) they might have expected.
The industry has also been embroiled in ongoing supply chain disruption and insecurity that has eroded some of the certainty in the market. The Uyghur Forced Labor Prevention Act (UFLPA) and antidumping/countervailing duty (ad/cvd) tariffs have turned focus firmly onto modules' provenance. As manufacturers of thin film and traditional silicon PV modules look to build out their legitimate US supply chains, supply chain transparency and security now a key concern for developers, manufacturers and investors alike.
PV Tech has contacted Toledo Solar for comments on this story.