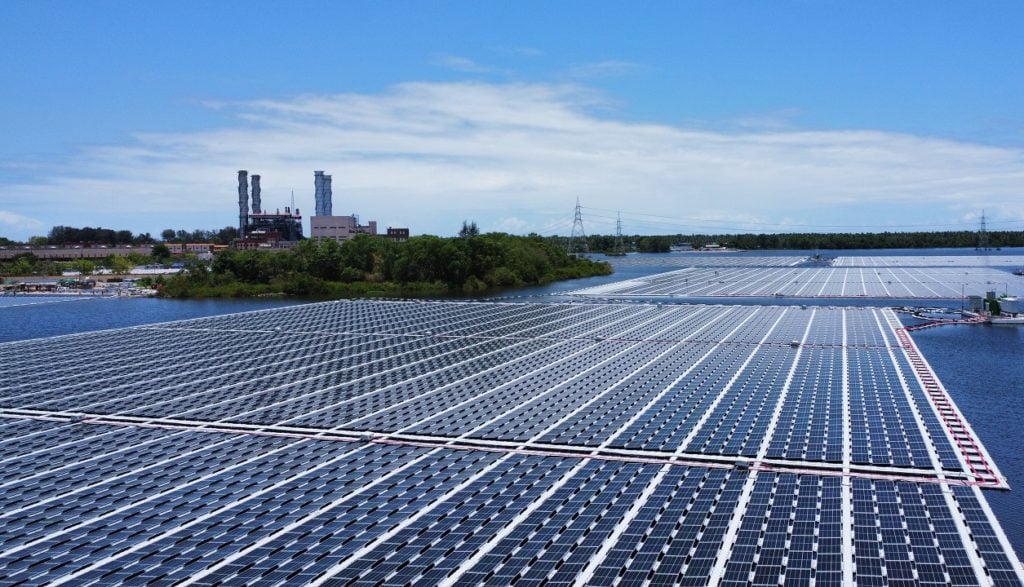 The global floating solar (FPV) market will surpass 6GW by 2031, with China, India and Southeast Asia set to deploy the lion's share.
A new report from energy analyst Wood Mackenzie forecasts that the compound annual growth rate (CAGR) of FPV will increase by 15% in the next ten years, with 15 countries set to surpass 500MW of installed capacity. China, India and Indonesia will make up almost 70% of the world's FPV capacity.
By 2031, China will have cumulatively installed over 13GW of FPV, with India and Indonesia over 10GW and 8GW respectively. The price of FPV – though currently higher than traditional ground-mounted systems by between 20-50% – is falling as demand increases and technology develops. PV Tech Premium published a discussion of the technological developments in the sector in February.
Ting Yu, consultant at Wood Mackenzie, spoke at SNEC PV Power Expo in Shanghai this week: "The global solar industry, including PV developers, continues to battle limited land availability and increasing land costs for ground-mount solar projects, which is driving demand for floating installations… increased competitiveness in the developer and EPC landscape is helping to drive down costs in the sector."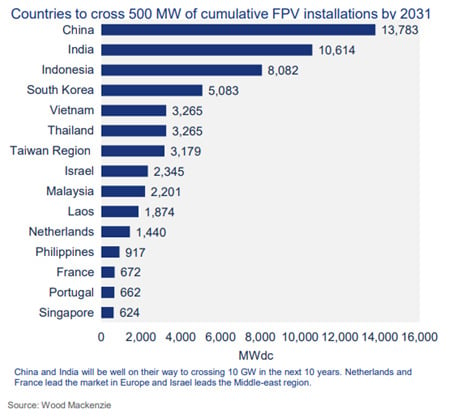 Behind the Asia-Pacific region, which had 3GW of FPV installed in 2022 (90% of additions that year), Europe is becoming the second-largest market for FPV in terms of demand. The Netherlands is leading the demand, given its relative lack of suitable land for utility-scale solar, followed by France. By 2031, Woodmac forecasts the two countries to have 1.4GW and 672MW installed respectively.
Offshore floating projects in the Dutch North Sea have been being realised of late, beginning to move past pilot projects into commercial size. Land is valuable in Europe, and many countries have, or are beginning to introduce dual land-use requirements for solar projects, which could be met by both agrivoltaic plants and floating installations.
"Although it is still a small market in Europe, the trend is positive, and bigger floating PV plants are expected in the near future. After 2025, slow growth is projected as the main spots would have already been developed at this point. In addition, grid constraints and higher LCOE for bigger plants means the technology is not competitive against rooftop PV," Yu said.
A similar relationship between land cost and FPV demand is forecast for the US, with a projected 13% CAGR forecast there too. California, Florida and New Jersey were highlighted as regions which might see the highest FPV penetration over the next decade.